The Groundhog Gale of 1976 is apocryphal among those who worked on water, and for good reason.

With winds of 116 mph and swells up to 33 ft, it was like nothing anyone who saw it ever had experienced before, or ever hoped to again.

A lighthouse at Fish Fluke Point on Grand Manan was wrecked in the storm, and subsequently abandoned. But the Gannet Rock lighthouse, a little under twelve miles south in the middle of the Bay of Fundy, with a smaller footprint and more exposed location, survived it.

Built in 1831, the lighthouse was assessed eight years later by an inspector named Lauchlan Donaldson, and he reported it was "a fearsome place in storms." He agreed with keeper Jonathan Kent's assessment that only the iron chains that had been placed a year before had kept it from being swept away into the sea.

He recommended a twelve-foot-high and four-foot-thick wall of cut stone be erected around the tower for protection. These early protections, and later modifications, have enabled the Gannet Rock lighthouse to withstand many of the storms that have hit it over the years, despite its exposed location south of Grand Manan in the Bay of Fundy.

And so we come to the Groundhog Gale. I've mentioned before in this newsletter how my grandfather, Ashton, was a lighthouse keeper working on Gannet Rock during the big 1976 storm. Though neither my mother nor I ever visited that remote outpost, we felt a strong kinship with the place based on my grandfather's spirited descriptions of how the water overflowed into the bottom of the lighthouse. How frightening and desperate it must have felt, clinging to that rock all alone, twelve miles out to sea.

Less well-ramparted lighthouses in the area fell. Gannet Rock, which I think of as my granddad's lighthouse, held.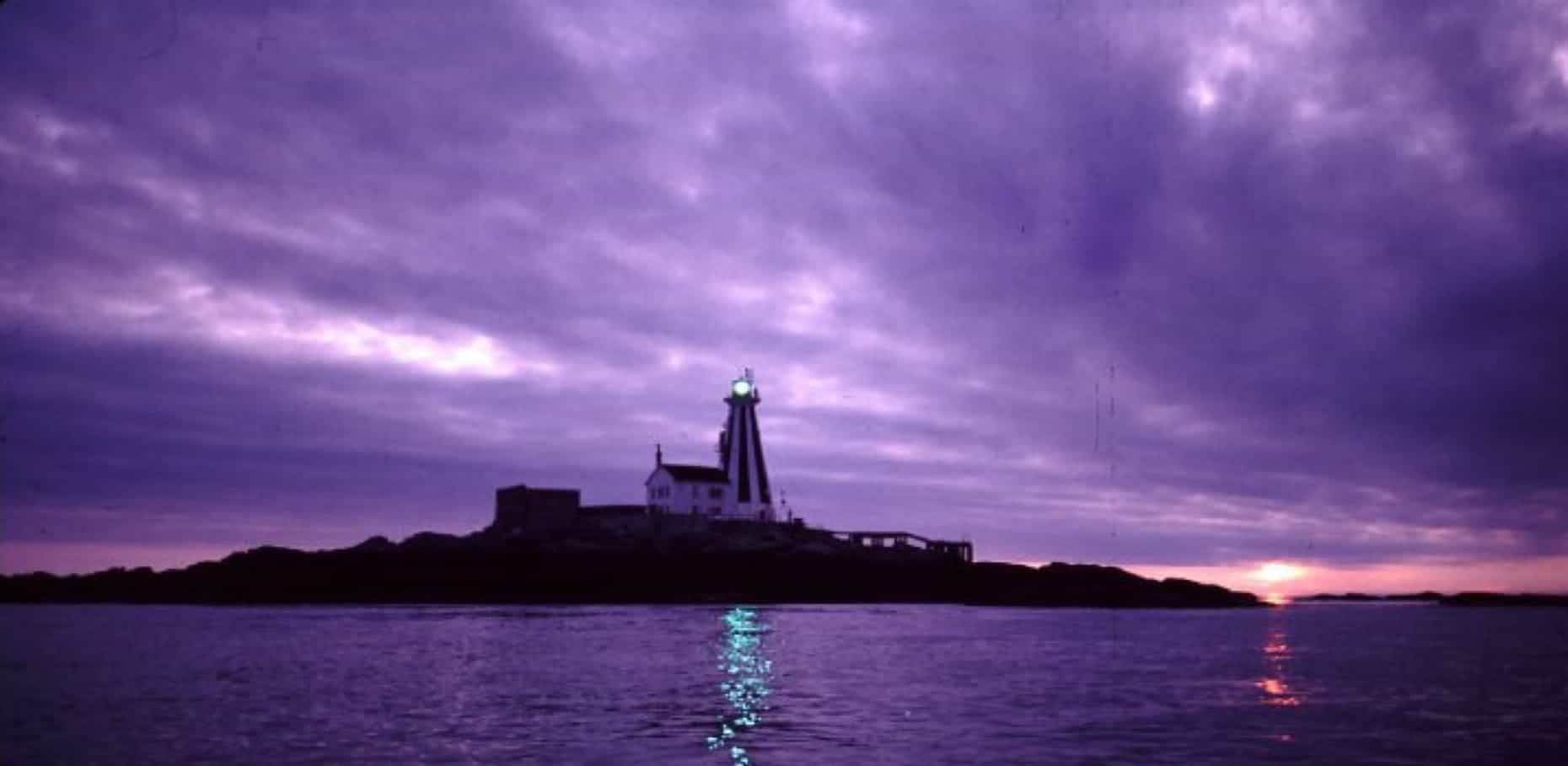 If you were so minded, you could take this as a metaphor for the life event we're all living through. As the pandemic has progressed, we have all found new ways to be resourced, to meet difficulties, and to thrive despite the hardships, and they are many, thrown our way.
I like lighthouses for a lot of reasons, but right now, I especially like them for their symbolic steadfastness. In the darkest night, in the most fearsome storms, a lighthouse, if it's built well, stands and shines.
It does, in other words, its job.
In August, I took a trip with several friends to Grand Manan island in New Brunswick. I was grateful to be able to travel and see folks as our restrictions in Canada began to ease. I was excited to go on a whale watching tour with Matt Lambert, a friend of a friend who started Lambert Family Adventures with his wife, Heather, last year. Matt is great at finding the whales, and being on the Zodiac with him was exhilarating. We got to see 20 or 30 whales in total: lazy humpbacks and peppier fintails, who swim in pods like dolphins.
While we were on the tour, Matt and I got to talking. I told him a bit of my family history in and around Grand Manan. Since he seemed intrigued, I asked whether it might be possible to go to Gannet Rock on a separate tour sometime.
He lit up. "Sure! Of course! I'd love to go out there."
And by 8 a.m. the very next morning, I was embarking on my first-ever trip to see my grandfather's lighthouse.
No one is allowed on the rock itself, of course, since it's in a state of advanced disrepair after being shuttered in 2012 and then gutted by the Coast Guard. It's a beautiful site, just as romantic as I had pictured it from looking at the photos, but it is disheartening to see just how little is being done to keep it from washing away entirely.
For a structure that has survived so much, this seems like a shame.
I can picture the possibilities: a fresh coat of paint to mimic the original striped paint job, which itself may have been designed to mimic the coats of the black-and-white Northern gannets that used to nest there, and for which the island is named. 
The interior could be refurbished and restored to the old style, with a museum to showcase all the hardships Gannet Rock's lighthouse has withstood in its 190 years of operation.
I spoke to a friend recently, a person with a keen interest in conservation, and he said, "The lighthouse won't go anywhere during my lifetime or yours."
But implicit in that statement is the obvious: The lighthouse will go eventually, unless we take concrete action to save it.
As with most other people who have survived the Covid pandemic, I am newly aware of what things truly matter to me in life. As a businesswoman, I often think about my impact and the tangible outcome of the things we do while we're on the planet.
If we take the example of the Grand Harbour lighthouse at Fish Fluke Point, the last keeper left in 1963. It was abandoned, then damaged in the Groundhog Gale of 1976, further damaged by future gales, and named North America's most endangered lighthouse in 1999. Efforts to fundraise and save it failed. It finally fell in 2013, fifty years after it was decommissioned.
I can't help but dream of a better outcome for the Gannet Rock lighthouse. Its bicentennial is coming up in 2031. I love thinking of a bustling museum and visitor center, a preserved piece of our heritage that people can continue to enjoy for generations to follow.
I know Grandpa Ashton would have agreed.